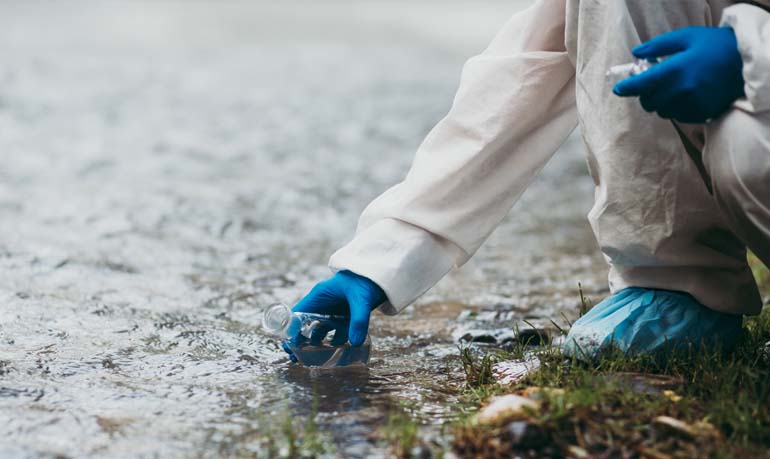 Experts often need to analyze the pollution in rivers, oceans, underground water, and other sources of water to determine the cause of environmental deterioration and potential health hazards. So environmental regulators require a reliable, efficient way to measure potential water pollutants using reference values and measurement methods stipulated by law.
Hamamatsu provides high-sensitivity optical sensors and high-luminance light sources for water quality inspection equipment that detects pollutant components in trace amounts.
Light-based methods to inspect and measure water quality
Ultraviolet absorption measurement
Dissolved organic molecules commonly exhibit strong absorption in the ultraviolet (UV) range. This method determines organic pollutants present in industrial drainage and river water by measuring the pollutants' absorbance of UV light.
Total nitrogen measurement
One approach to nitrogen measurement is converting dissolved nitrogen into nitrates. UV absorption spectroscopy (commonly at 220 nm) is a powerful technique for measuring these nitrates.
Total phosphorus measurement
Measuring dissolved phosphorus can be challenging. One common technique is treating the sample through chemical reactions to produce molybdenum blue. Absorption measurements around 880 nm can be correlated to the concentration of phosphorus.
Fluorescence measurement
Oil content and polycyclic aromatic hydrocarbon (PAH) are measured by irradiating ultraviolet light on factory and vessel drainage and measuring the generated fluorescence.
Atomic fluorescence spectrometry (AFS)
Atoms absorb specific wavelengths of light, and the absorbed light is reemitted in the form of fluorescent light. Atomic fluorescence spectrometry is an analysis method that detects this fluorescent light and determines the element. It can measure elements such as mercury with high sensitivity at the ppt level.
Atomic absorption spectrometry (AAS)
This analysis method determines the quantity of atoms by irradiating a specific wavelength of light on the sample atomized through thermal dissociation and measuring the absorption spectrum. Because this method is less susceptible to spectral interference, it is used to analyze elements (present as the main or trace components) in various fields.
Recommended products